(A creative and magnificent sequel to this post right HERE!)
They say that your twenties are filled with change and seven hundred different versions of yourself. Well, "they" got it right.
I have changed more in the past six months than I feel like I have in my entire life.
I have jumped from version 20.0 to 20.35, skipping through different Anna's until one new aspect sticks to me, creating this ultimate version of Anna that I'm starting to enjoy.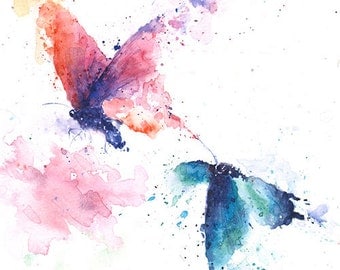 And as I was rolling in fuzzy blankets underneath the Christmas lights that decorate my room, I saw a shadow cast on my wall that looked like… a butterfly.
It reminded me of a small passage I wrote two nights ago that I didn't think I would share on Inspired She Lives, but we're all about opening up here. Acceptance and love, right?
So here it is.
I'm Still A Damn Butterfly
We get broken as a test to see how well we can transform.
We spin around and around, weaving our cocoon until the only thing we have left to do is wait. 
Wait until enough time passes.
Wait for our wings to grow.
Wait for our colors to brighten.
Or just wait for our patience to run out.
But we find our strength in ourselves because that is our only option and the patience…
It stays.
And after weeks and weeks of metamorphosis, we spread our wings and realize that our wings are ready to fly. 
And though our journey was long, it was beautiful.
And WE are beautiful.
🙂
Thankfully, some words pour out of me and tell me how I am feeling. These words that are written were not over thought or carefully crafted. They bled from the scars that come with change and soothed the little girl who is sick of all the villains in her life.
So thank you so much for reading. I hope your Monday conquers every other Monday before it.
Until tomorrow,
Anna Marie